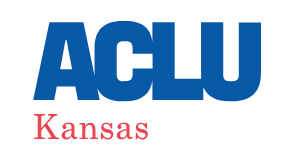 The American Civil Liberties Union of Kansas is a non-profit organization dedicated to protecting the civil rights and liberties of all people living in Kansas. We work in the state legislature, the courts, and local communities to ensure that those who threaten the civil liberties of Kansans are met with stark resistance. We work for policy change to expand and strengthen civil liberties, provide legal counsel, and act as an ally and an advocate for people who are denied the rights guaranteed to them by the U.S. Constitution and Bill of Rights.

It is our mission to protect and defend the constitutional rights and civil liberties of every individual in Kansas regardless of creed, race, religion, gender identification, or class. Our efforts are focused on serving and defending reproductive rights, racial justice, LGBTQ+ rights, First Amendment rights, immigrant rights, voting rights, criminal justice reform, and privacy rights.

The ACLU of Kansas protects the civil rights of segments of our population that have traditionally been marginalized, including women, people of color, lesbians, gay men, bisexuals, transgender and queer, people, currently and formerly incarcerated people, people with disabilities, immigrants, and the poor. We defend the freedoms of all residents of Kansas without consideration of political partisanship.