Liz Ryan Receives Recommendations from DFJ Transformative Justice Fellows
In a significant step towards eliminating fees and fines in the juvenile justice system, a group of Debt Free Justice (DFJ) advocates and Fellows recently convened with Liz Ryan, administrator of the Office of Juvenile Justice and Delinquency Prevention (OJJDP). The meeting, held on May 10, brought together representatives from the Juvenile Law Center, National Center for Youth Law, Berkeley PAC, Ubuntu Village, Progeny, and Alianza, along with the DFJ Transformative Justice Fellows. Guided by their lived experiences, the fellows presented a comprehensive list of recommendations to the OJJDP team, highlighting the critical areas of funding allocation, data-driven decision-making and research, and the urgent need for youth involvement in shaping OJJDP policies. 
Fostering Inclusive Funding: 
The first recommendation emphasizes the need to prioritize OJJDP grants for grassroots organizations focused on transformative justice programming and policies. One specific recommendation involves supporting the "100,000 Young People" Project, which aims to gather 100,000 young individuals with justice system experience, track their journeys, provide essential services, and facilitate their participation in advocacy, including federal advocacy. Additionally, support is sought for programs that directly benefit organizations and provide restorative justice, wrap-around services for youth, and preventative services.
Data-Driven Decision-Making:
Another recommendation is to gather comprehensive data and conduct thorough research on fees and fines, juvenile incarceration, and the experiences of adults who were previously involved in the juvenile legal system. Specifically, conducting a longitudinal study over a period of 10-15 years to track the experiences and progression of young individuals within the justice system as they transition into adulthood is proposed. Additionally, the federal government is urged to provide information pertaining to state fees and fines data, as well as other relevant data on the experiences of young individuals in the justice system. Alternatively, the recommendation suggests requiring states to collect and publish this information to enhance transparency and inform advocacy efforts.
Harnessing Investigative Authority:
Furthermore, the OJJDP is urged to utilize its investigative authority to address systemic racism within the juvenile justice system and hold jurisdictions accountable for racist policies and practices. By conducting thorough investigations and taking decisive action, the OJJDP can contribute to dismantling racial biases and promoting a fairer juvenile legal system. The advocates strongly recommend conducting a thorough investigation into the existence of racist policies and practices within the realm of juvenile fees and fines, as well as other policies and practices within the juvenile legal system.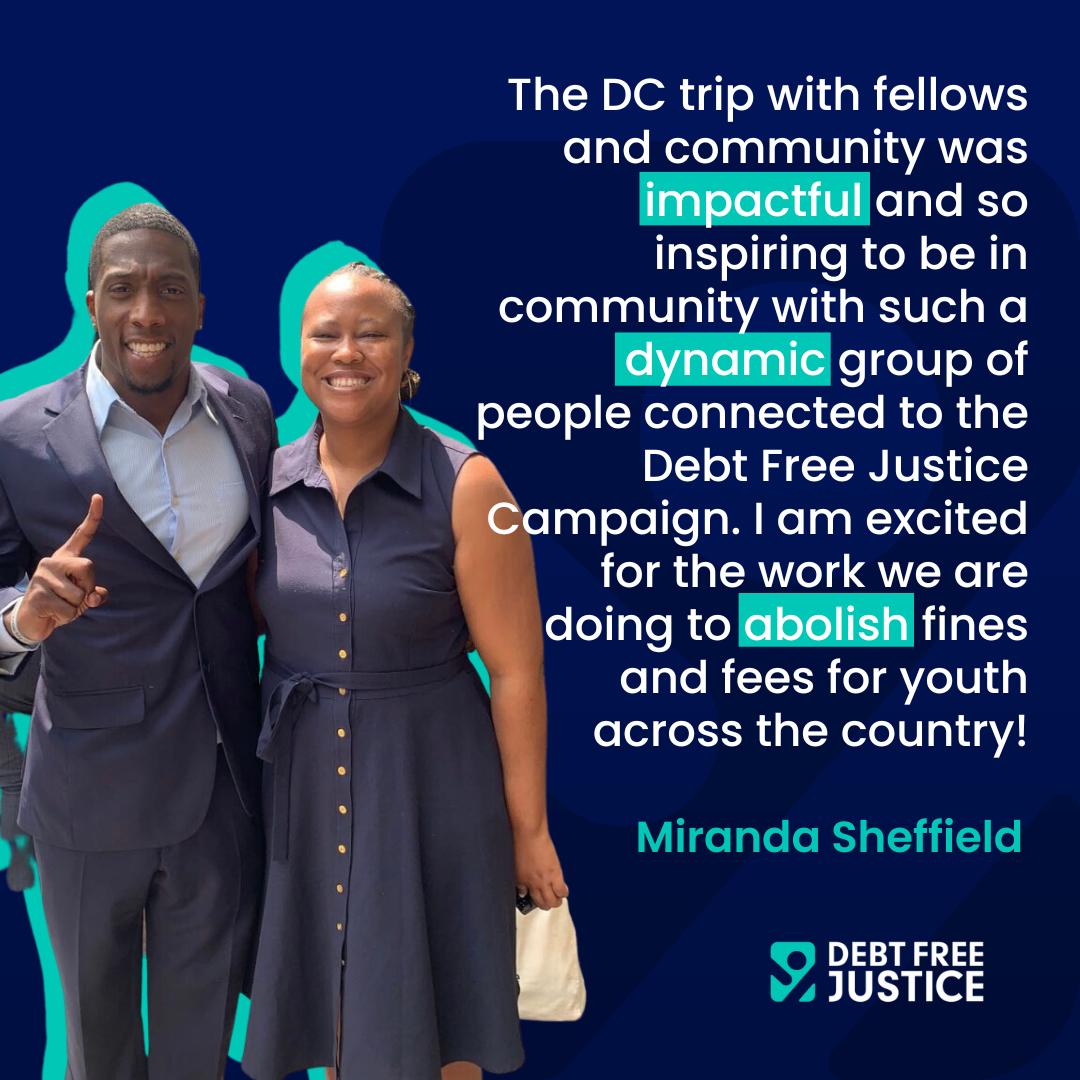 Amplifying Youth Voices:
Another crucial recommendation is to actively integrate youth and individuals with direct experience in the juvenile and adult legal system into the policy-making processes of the OJJDP. By including these voices at the decision-making table, we can ensure that policies and practices are informed by real-life experiences and insights.
The meeting between Debt Free Justice advocates, the Transformative Justice Fellows, and OJJDP administrator, Liz Ryan, marks a significant milestone in the ongoing efforts to abolish fees and fines in the juvenile justice system. The recommendations put forth by the organizations and Fellows reflect a deep commitment to promoting equitable practices, dismantling systemic inequalities, and ensuring that young people have a seat at the table when decisions about their futures are made. By prioritizing funding for transformative organizations, adopting data-driven approaches, and amplifying youth voices, the OJJDP has the potential to pave the way for a more just and compassionate juvenile justice system.
Don't miss out on our social media platforms for an opportunity to delve into the personal accounts of the participants as they share their experiences of meeting with Liz Ryan and other DFJ advocates in Washington, DC. Follow us on social media @debtfreejustice #DebtFreeJustice.